Meet Allison + Ian + their growing family! They purchased their first home in the popular Murray Hill area and recently sold it and moved to Riverside as their family has grown. Here's a little about their buying and selling experiences and how they prepared for buying + selling at the same time…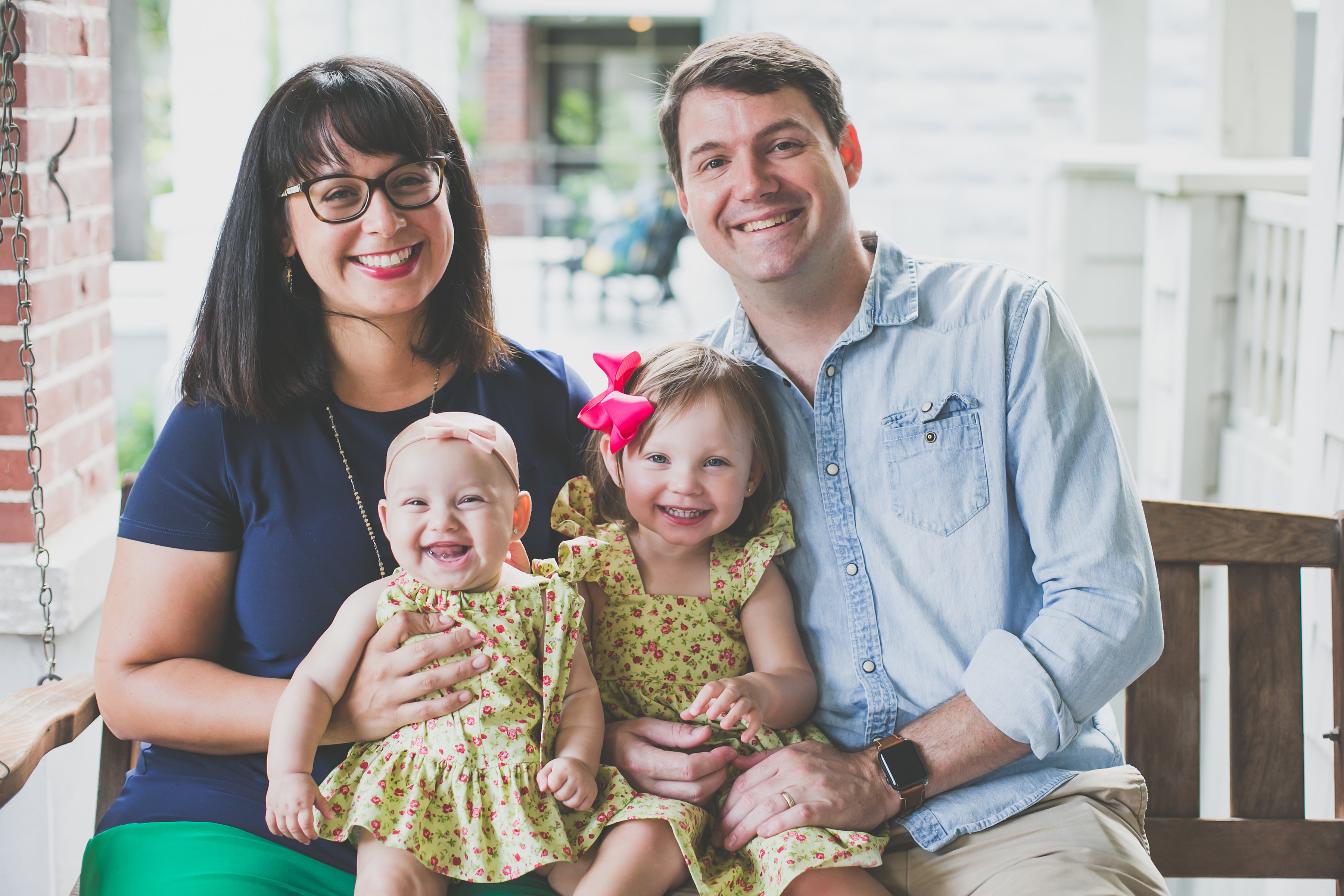 What made you decide to sell you house in Murray Hill? We had grown out of the home. We had recently had our second child and the house, although lovely was only 1,100 square feet. It had become a bit too cozy for a baby, toddler, dog and two adults.
What steps did you do to prepare your home to sell? Repairs, staging, etc? Alli and I worked very hard to make sure the house, when it went on the market, was ready to sell and pass the home inspection with little or no defects. We hired a licence contractor to make repairs to the foundation. We serviced our HVAC System. We touched up paint on the exterior, upgraded the landscaping and pressure washed the fence and deck. Amanda arranged for us to meet with a home stager and she told us we had a great house but needed to DECLUTTER! Finally prior to taking the photos for MLS, we got a storage unit and removed all the clutter and the personal stuff within the house. This made for very clean professional photos, which in today's market, are the first impressions that people will see of the home.


Why did you feel prepping for sale was important rather than just putting it on the market as soon as possible? Prepping is important because we wanted to make selling our home as quick a process as possible. With two little kids, having a long drawn out process of selling the home was not a feasible option. It is hard enough to keep the house clean for one day. It would have been impossible for weeks of showings. A prepped home can mean the difference between a smooth real estate transaction or not. I am not sure of statistics but with a well prepped home you are more likely to sell your home in 30 days than if you didn't.
You looked at several neighborhoods before settling on Riverside, what made you choose Riverside?

Allison:
Since we have been together,
we have always lived in the Urban Core. Avondale first as renters, then Murray Hill as a young couple. When we purchased our new home the market was very competitive. We knew we wanted to have a historic home, with off street parking, storage options, in walking or biking distance to parks with playgrounds and restaurants we loved. We weren't necessarily tied to Riverside but it was on the top of our list of neighborhoods.
Ian:
Pure Luck and a good Realtor
®
. Ha Ha. Of all the Neighborhoods we looked at, Riverside was on the top of our list due to its character, walk-able neighborhood, great restaurants and the nearby parks.
What was it about the Riverside house that appealed to you so much?
The house is a beautiful 100 year old bungalow in a
historically
protected neighborhood. We love that all the houses look different in the neighborhood. The home was well taken care of and recently updated with solar panels, a pool and connected garage. It hit all our wish list items and was a dream come true.
What was the biggest concern for you on your inspection report and are you satisfied with the negotiation of repairs? My main concern in almost every old home is how well the foundation is holding up. Once the inspection report came back clean with that, the next concern was the roof because it was visually worn. The concern was that we would not be able to bind insurance with the roof in that condition. We were able to negotiate to take some money off the sale price to have the roof repaired after the house sold.
How do you feel that the negotiations went on the new purchase? The house did appraise for over value. The former owners priced it to sell quickly. So I guess that's a winning purchase LOL
What was the most stressful thing about buying and selling at the same time? The most stressful thing was finding a place to stay in between homes. Luckily we had Alli's parents that allowed us and our very small children to live with then for several weeks as we transitioned. It was also that it was a competitive market, a lot of our offers got turned down because our financing was contingent on our first house selling. Amanda recommended we include a personal letter to the sellers in our offer. We included a family photo. I know that was one of the reasons our offer was accepted. We ended up with a highest and best situation and the sellers knew how high we could go. Our final offer was not the highest but they liked our letter and came back to us asking if we could meet the highest price. And it still appraised for more than we purchased it for.
What advice do you have for other folks who have to buy and sell at the same time?
Be flexible and don't settle. If possible have a place where you and your family can stay in transition so you purchase the best possible place for your money. Real estate closing dates change all the time and having the ability to deal with that can make all the difference
.
How has the new house enhanced your lifestyle? L
iving with a pool during the summer time is quite nice and having the space to entertain friends and family is a lot of fun.
The solar panels are a great bonus too-
our electric bill averages $150 even in the summer. It saves us a lot of money!
Anything else that you would want people to know about your buying and selling process and your story?
Having a smart hard working Realtor
®
made all the difference in the world to us. Amanda made the appointment to see the home the day it went on the market and by the end of the first day there were multiple offers of the home. Without Amanda's skill and knowledge in the negotiation process, the home could have easily went to someone else.